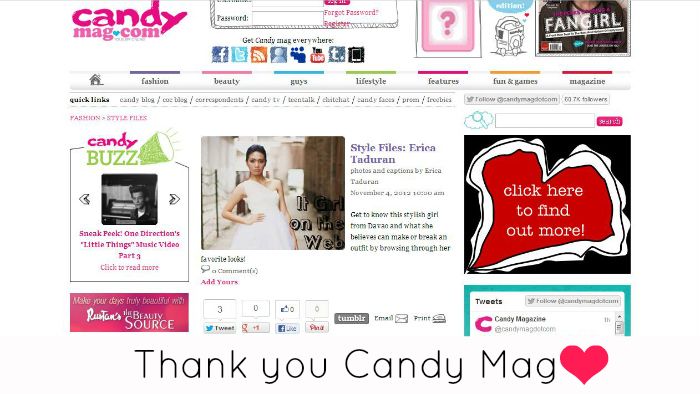 Candy Magazine has been a big part in my teenage life, its where I get tips on how to do this and that and how to handle teenage problems whenever I cant ask someone about it. Also, Its where I get freshest trend cast of fashion and How to's 101. Candy Magazine provided so much for teenagers and up until now they continue to give genuine teenage magazine.
As I woke up today, I got a news that I was featured in Candy Mag's style files and I got to be the IT Girl on the Web so imagine my joy and rejoice when I found out!! Everyday of November is truly a surprise for me and I hope it continues until the month ends if its not too much to ask :)
You could check it out
HERE
, Forgive me with my article HAHA! I wrote it last summer maybe? or even before that but anyways i'm still thankful for it :)
Thank You Lord for all the blessings and Thank you
Candy Mag
for fulfilling one of my teenage dreams.
//E